News
December 2019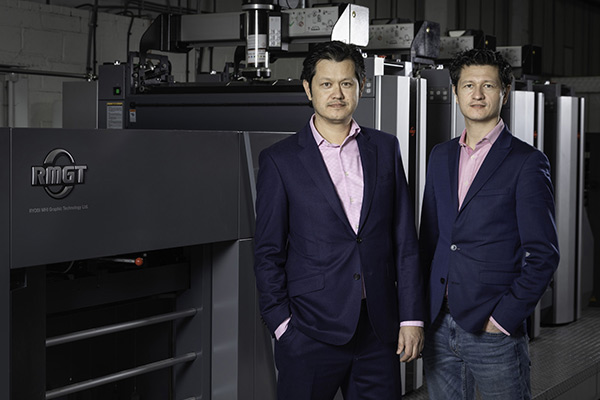 Premier Print Group: Second RMGT 920 to Keep Pace with Growing Workload
London-based Premier Print Group has announced details regarding the installation of its second RMGT press in just over 12 months. This second RMGT 920 press – a five-colour version – joins an existing RMGT A1 format 924 LED-UV. Both machines have been supplied and installed by the UK's official RMGT distributor MPL, Surrey.
The previously all Heidelberg B2 litho printer has benefited both from the compact design of the RMGT 920 machine, with its B2 sized footprint, the significant productivity boost offered by the A1 format of the machine, and the instant drying of the LED-UV capability of its first machine.
Gary Goodson, director of Premier Print, said: "We have been blown away by our first RMGT press. The A1 format has allowed us to print eight A4 pages to view, meaning that we could print twice as much work that we could on our B2 format machines. We have produced over 20-million impressions in our first year on the RMGT 924 LED-UV – that would have meant we would have had to produce 40-million B2 impressions on our previous presses, which would have been very unlikely!
"The RMGT press is also ultra-reliable – we have had zero downtime due to machine failure. That has never happened before. These machines are incredibly reliable – and that means that we don't let our customers down. The LED-UV drying system also means that we can compete on a level playing field with the turnaround times of digital."
Brother and fellow director Darren Goodson added: "We have enjoyed such amazing results from the first machine that adding a second RMGT 920 was a no-brainer. The additional capacity that the first RMGT provided was very timely, however, we filled that additional production capability within a few months, meaning a second similar format machine was going to be needed sooner than planned.
"The unusual sheet size, the high print quality, the reliability, and space requirements of the machine made it an automatic choice. Space is one of the limiting factors for us and RMGT provides a lot of press in a small B2 footprint!"
The impact of the first RMGT press showed itself soon after installation.
Gary Goodson continued, regarding the first RMGT machine: "Not only can we now run eight-pages to view rather than four, but the simultaneous fully-automatic plate changing capability cuts make-ready times by more than half. We now have an additional 30% increase in capacity with the arrival of the 925, and that's on top of the 30% increase in turnover achieved in 2019."
Commenting on the installation of a second press at Premier Print, Mark Stribley, Joint Managing Director of MPL, said: "Premier Print Group could quickly see the benefits of replacing a B2 machine with the A1 capabilities of our RMGT 920 series. Having filled the additional capacity that the press gave them, they needed very little persuasion to add a second similar machine. Space is always at a premium in London, so the B2 chassis of the RMGT 920 was an important element in the initial decision. "
"Premier Print should act as a model for B2 format printers everywhere. This is the direction that your business needs to go. Litho printing can still be efficient, highly productive, and, most importantly, profitable, just as long as you install the right equipment to make it happen."
About Premier Print
Premier Print Group is a family-owned and managed business. It was started in 1983 by Gary Goodson who was later joined by his brother Darren in 1992. Together they have grown and developed the business to become a leading London printing company, specialising in short-run magazine and booklet printing services.
See premierprintgroup.com for more details.